Skydive Index


Pearls on the Net


Parachute History


Bird-Man.com


The Story of "Puke Duke"

Features


Janine Hill - Cameraflyer


Two Dogs and a Journalist


Garmin eTrex Summit

Your Gallery


This Month's Pics


The Best of Past Issues

Your Stories


Carl Jordan, a True Hero!


Shawanga!


What a Rush!


Jumping a Balloon


Just....Let Go! - A Poem

Wanted!
[updated: 08/21/01]


Staff & Jobs


Team Members


Stolen Gear


Miscellaneous

ShopZone

Skydive Books

Newsletter

Archive

Skydive World

Greeting Cards

Skydive Forum
Beyond Skydiving


Treasure Chest


iFilm.com


Laugh.com


Dotcomix

Featured Sites


Burning Man


Motion Picture Archive


Dinorama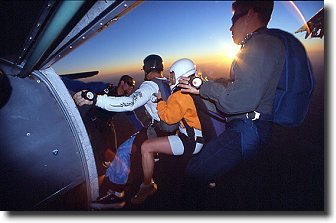 Photo © 2001 Janine Hill

Adventure Of Your Lifetime
Cave BASE 2002
[By Mark Lichtle and Aerial Extreme]
Sótano de las Golondrinas, Cave of the Swallows, is a magical and wondrous place located deep in the mountains of the Mexico rain forest. From the alien like landscape at the bottom to the thousands of migrating swallows to the ancient heritage of local villagers, Sótano de las Golondrinas is truly a mystical world.

With overhung walls and a freefall depth of over 1,100 feet, this rugged environment has become host to BASE jumpers from around the world, jumpers who are looking to challenge themselves and their skills. Nowhere else in the world can you jump such an object as formidable as this. With an opening of only 160 feet across at the top and a base of over 6 acres, this is truly an object to prize.

Shaped like a bell and with such internal mass, the entire Empire State building could fit inside. And because the opening is completely overhung, one needs to rappel nearly 1,200 feet before reaching the mossy green cave floor, a task horrifying to the novice and mandatory to members of this expedition.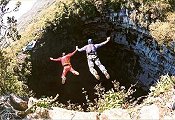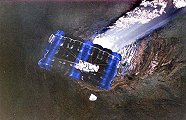 All photos © 2001 Aerial Extreme
Due to the caves unique structure, it looks at first assessment that to jump this object would be BASE suicide. The walls appear shear at best, leaving you with the impression that the bottom is no larger than the top. Only after you have rappelled deep within the heart of the cave does it begin to reveal its true size.

But before anyone can even enter the cave, one must be properly instructed on how to use the many pieces of specialized climbing and ascending equipment necessary to get in and out of the cave safely.

For most people, this adventure will introduce them to new areas of challenge. The first of which is a 1,200-foot rappel. Because of the cave's overhung walls, the only way out is by rope. After a 10-15 minute rappel, each jumper will explore the cave floor. Becoming familiar with the diverse terrain is very important as the cave changes from a flat floor perspective at 300 feet above, to a rugged slope with large boulders.
Continued on Page 2...

What happened at this year's World Freefall Convention?
Read our article "Who killed the Magic of Quincy?"
Last Update: November 16, 2001
News & Articles


Current News


News


NewsBytes
[Updated: 08/21/01]

Competitions


US Pond Swooping
Championships


Speed Skydiving Meets
in Europe


Quincy Pro Blade Meet


German Skydiving League


More Competitions
[Updated: 08/21/01]

Boogies & Meets


Who killed the Magic
of Quincy?


Chicks Rock Boogie


Richmond Boogie


Cumulus Convention 2001


Kenya Beach Boogie


More Boogies and Meets 1


More Boogies and Meets 2
[updated: 08/21/01]

Events & Courses


Golden Knights Wind
Tunnel Camp


SOS Record Attempts


Style & Accuracy Coaching
at Headcorn, UK


Big Way Camp Perris


More Events & Courses 1


More Events & Courses 2
[updated: 08/21/01]

NSL News [USA]


This month in the NSL

SSI Pro Tour


What's new in the tour?


Worldwide Events 2001
Freeflying & Skysurfing

Safety Issues
[updated: 08/29/01]


Fatal Accident at the Pond
Swoop Nationals


Black Summer 2001
19 Skydivers Died


My Lucky Day


Negotiating Turns:
Death by Degrees


Landing in Turbulence



Contact

World Weather

Guestbook

Send this Web Site