Index


Pearls on the Net

Features

Your Stories

News & Articles


Current News


Competitions


Boogies & Meets


Events & Courses

NSL News [USA]

Freefly Events

Safety & Training

Wanted!


ShopZone

Skydive Books

Your Gallery

skyXtreme Archive

Newsletter

Skydive World

Greeting Cards

World Weather


Skydive Forum

Guestbook

Contact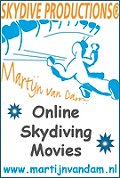 What would a skydiver's life be without all those great boogies and meets around the world? Let us show you the special ones every month and some great Drop Zones around the world.
Jan Davis Memorial Boogie
February 28 - March 3, 2002
Photo © 2001 Jan Davis

Join the fun at Skydive Sebastian in Florida in memory of one of the rec.skydiving newsgroup's most popular posters and camera flyers, Jan Davis. Jan, who died in a tragic skydiving accident March 31, 2001, attended the boogie over the past years as the boogie's "very own camera flyer" and "buy the pie" coordinator.
As every year, Bill Flynn and his team are organizing the boogie formerly known as rec.skydiving Boogie. A CASA and a Twin Otter will be flying, and there will be skydives for all levels from Peanut 2-ways to big ways, raft jumps, beach jumps, night jumps, freeflying and more. The "Muff Brothers" will be there, and there might even be the possibility of a "shuttle jump" on February 28. (Bill's working on it!)

On the ground fun includes: The "Drop Shop" gear store, wind tunnel training, keg parties, Peanut's pie-eating contest, and much more fun. For further info email Bill at recskydiveboogie3@hotmail.com and check out his website.

More on the boogie and Jan and as she is remembered by the skydiving community at:
www.skyxtreme.com/archive/march2000/stories2.html
www.skyxtreme.com/archive/april_may2001/news_jan.html
http://www.Makeithappen.com/wis/bios/davisjan.html
www.skyxtreme.com/archive/april_may2001/stories.html

Malaysian Borneo Boogie 2002
February 22 - March 9, 2002

It's February and it's warm. Very warm. You are far away from home. Looking out at the horizon, you feel the impact of the setting sun and the kaleidoscope of colors it leaves in the sky. You take a deep breath and inhale the air - full of local flavors and cultural diversity. The sea invites you for a swim and you get up from under the palm tree that has been sheltering you from the last rays of sun and you let yourself sink into the lukewarm waters of the quiet ocean.



go there...

You have just made your last jump of the day and landed on the beach in front of your hotel. You ooze into the serenity of the tropical surroundings after hours of great skydiving. The Hercules C-130 makes a low pass over the beach waving off a good day of high flying fun while 100-plus other skydivers cheer along with you. The beer light is on!

Sounds too good to be true? Check out Exotic Sky Adventure's website at www.exoticskyadventures.nl to read the latest on their upcoming boogie in "The Land below the Wind".

Exotic Sky Adventures does this every year to gather friends from around the world and live out good times during a two-week tropical boogie. For the past ten years we have flown and broken new skies together in Africa, Madagascar, Asia and South America. And there are still many more awaiting!