Skydive Index


Pearls on the Net


idgraphics Skydive Pages


Porno City Skydivers


Scott Boston's Website

Quincy 2001 - The Video

Skydive the North Pole

Palm Logbook Software

Your Gallery


This Month's Pics


The Best of Past Issues

Your Stories


Parachuting takes an
Olympic Leap


Twisted at the Casa Boogie


An Amusing Skydive


The Good Ole Days


My First Tandem Jump


Rafting a Balloon

Wanted!
[updated: 01/27/02]


Staff & Jobs


Team Members


Stolen Gear


Miscellaneous


skyXtreme Archive

ShopZone

Skydive Books

Newsletter

Skydive World

Greeting Cards

Skydive Forum

World Weather

Guestbook

Contact




Our magazine is currently on hold. Older issues, stories, articles and photos can be found in the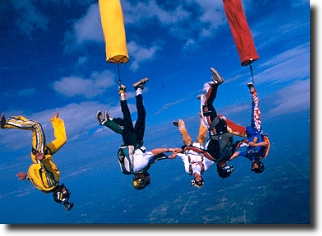 Photo © 2002 Martini Shot Films

Airspeed Tunnel Camps
The Right Stuff for your Freefall Skills
No sports team in the universe has accomplished what Arizona Airspeed's formation skydivers have -- victories in almost every National and World competition since the founding of the team in 1994. Last year the team members decided to pass on their knowledge and experience to skydivers of all skill levels, and they chose to use a very effective training media to do so, the SkyVenture vertical wind tunnel (freefall skydiving simulator) in Orlando, Florida. The Airspeed Tunnel Camp was born.

The Tunnel Camp is the most efficient way to sharpen your individual flying skills and body awareness. Maximizing your time in the tunnel will allow you to isolate particular skills and train them with the repetitions that a minute of actual freefall doesn't allow.

Wind Tunnel training is rapidly changing sport skydiving for both new jumpers and experienced skydivers. Arizona Airspeed has spent a great deal of time training in the SkyVenture wind tunnel with skydivers from all over the world and again offers training camps throughout 2002. The Airspeed "Wind Tunnel Training Curriculum" is a formal but flexible approach to teaching those skydiving skills that most readily lend themselves to simulator training.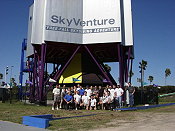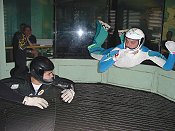 All photos © 2002 George Wheeler
Airspeed offers a range of programs from their new pre-AFF program for non-jumpers or those stuck on student status, to their basic, advanced, and 4-way specific tunnel training programs. All of the time at the tunnel camp will be one on one with an Airspeed coach.

The new pre-AFF program seems to be very promising. They recently had a 15 year old in the camp with his father and this is what Alan Metni tells us about it: "It is just a blast working with new or low-time jumpers. Its great to see such rapid and dramatic skill development. The camper discussed above had never jumped before and by the end of the three day camp he was doing vertical transitions over his dad, 540 degree turns in place with his eyes closed, super-positioning, side slides and even some free-flying. He blew right through the pre-AFF training program and went all the way through the basic camp curriculum."

News & Articles


Current News


News


NewsBytes
[updated: 01/27/02]

Competitions


Freefly Money Meet
in Eloy


Para-Performance Pro Tour


Speed Skydiving 2002


Freeflying at the Canadian
Nationals 2002


More Competitions
[updated: 01/27/02]

Boogies & Meets


Jan Davis Memorial Boogie


Malaysian Borneo Boogie


South of the Border Boogie


Albena Black Sea Boogie


More Boogies and Meets
[updated: 01/27/02]

Events & Courses


We Can Fly!


USPA Coach Course
in Virginia


4-Way Skills Camp at
Skydive Perris


More Events & Courses
[updated: 01/27/02]

Freefly Events


NSL News [USA]


This month in the NSL


NSL Schedule 2002

Safety & Training


Fatality & Accident Reports


Demo Safety Camp
with the Golden Knights


Precision Aerodynamics
Service Bulletin


CYPRES Service in
Australia


Parks College Parachute
Research Group


USPA Safety & Training
Newsletter