Index


Pearls on the Net

Features

Your Stories

News & Articles


Current News


Competitions


Boogies & Meets


Events & Courses

NSL News [USA]

Freefly Events

Safety & Training

Wanted!


ShopZone

Skydive Books

Your Gallery

skyXtreme Archive

Newsletter

Skydive World

Greeting Cards

World Weather


Skydive Forum

Guestbook

Contact


Web Design by
Netword-Project
© 2001
On this page we feature whatever you can think of or what you might suggest to us. These suggestions can be about people, teams, drop zones, software, books, videos, games, and...and...
Quincy 2001 - The Video
Martine Shot Films Production

If you have never been to the World Freefall Convention in Quincy you surely missed one cool event in your skydiving career. But it's not too late! You can still get some of the "flair in the air" and the atmosphere on the ground by watching Martini Shot Film's official Quincy 2001 video.


All photos © 2002 Martini Shot Films

For the first time Grant Carroll and MSF were in charge of the official WFFC video, and they produced a great piece of skydiving footage. Skydiving veterans, rookies and whuffos alike enjoyed very much watching it at our "review session" in the skyXtreme office.

The video is slam packed with awesome dives - RW, CRW, freeflying, small ways, big ways, tandem jumps, raft dives...you name it, Martini Shot Films has it caught on their video. The hybrid and tube dives, the helicopter rides and some of the best and funniest pond swoops ever seen let our jaws drop, and we got carried away by the pictures and the well chosen background music! One highlight of the video is a birdman jump where inventor of the birdman suit, Jari Kuosma from Finland, and his fellows chased a CRW stack.
And boy, did we feel sorry for the camera flyer who had a bad spot and landed out in nowhere land and caught his odyssey on film as he was marching through the corn field mazes of Illinois with a running camera. Hilarious!

The WFFC will move to a different place in 2002 so you better get your mits on a copy of the last WFFC video ever made in Quincy...it's a piece of history, dude!




Martini Shot Films has also put up a well designed web site with tons of high quality pictures from the WFFC 2001 which can be ordered as hard copies. Also the Quincy 2001 video can be ordered there and it is available as a family version and a mature version (contains adult language and nudity). Check out www.martinishotfilms.com and enjoy!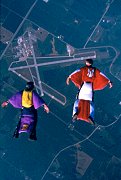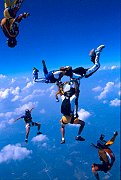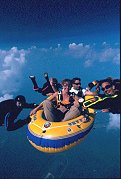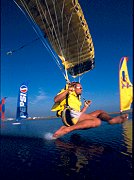 All photos © 2002 Martini Shot Films


Palm Pilot Logbook Software

Jim Duffy's Vorpalware logbook program "Paralog" is the first and only fully featured skydivers logbook and reporting application for all Palm compatible devices.

Those are the Program Features:

Log up to 65,535 jumps in complete detail.
Automatically calculate freefall delay or import delay taken from a dive computer or dyter.
Maintain personal profile such as licenses, ratings, awards and USPA membership status.
Track up to 4 rigs, their serial numbers and inspection dates.
Quickly view or edit jump logs with user defined sorting such as what DZ, aircraft, jump type etc.
Generate reports to evaluate performance and identify trouble spots.
Alarms triggered to notify when rig inspections or USPA membership is due.
Signature input feature to legally validate jump records.
Database compression used to conserve on precious device memory.
All databases and user preferences are saved with each Hot Sync regardless of the host OS.
Supports Color.
Support for Sony's Jog Dial Navigator for easy scrolling through jump records.
Programmed entirely in the C language for maximum application performance.
Compatible with all Palm devices running OS version 3.0 and above.

The software is now available for download at www.vorpalware.com and at www.palmgear.com