This is not a death-defying expedition. We use the expertise of the Russian Air Force with their equipment and one guide for every five people to make the trip both safe and pleasant.

On our 2001 Expedition we had twelve skiers, five hot air balloon pilots, six skydivers, one man in a wheelchair, an ultra light aircraft a home built airplane and many other visitors. The late April temperature was a balmy -10 F. Normal temperatures are -10 to -100 F

Our trip starts with a three-day tour of Moscow with visits to Red Square, the Kremlin Armory, and Star City (Russia's NASA). We then fly from Moscow via the Russian Air Force to a northern Siberian city named Khatanga. There we visit the Woolly Mammoth digs, an Inuit/Eskimo village and then take an arctic survival training course. The expedition continues with a flight to Sredney Island, a formerly secret, cold war, ICBM Base seven hundred miles south of the North Pole. The next stop is the ice runway of Camp Borneo, the North Pole base camp. From there we fly in the Russian Mi-8 helicopters to the actual pole, where we launch hot air balloons, have our skydivers jump, and enjoy the festivities while drinking champagne. Our ski team is set out on the ice with expert Russian guides to ski to the pole. The entire trip lasts about two weeks with three to five days on the actual North Pole.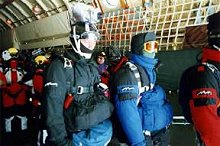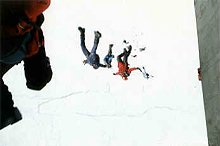 One interesting fact is that you cannot actually set a tent on the North Pole and camp over night because the ice pack drifts up to sixteen kilometers per day. This is why we use a base camp "Camp Borneo" and fly the helicopters to the actual pole.

Skydivers must be licensed to jump from 9,000 feet, and the skiers must be in excellent shape, have experience, and be pre-approved by the expedition leader. The cost is $7800 which includes all transportation and lodging, and the round trip from Moscow to the Pole. There is a $100 fee for the sleeping bag and all survival equipment which is well worth the money. We also aid in finding inexpensive transportation to Moscow, and help in attaining proper passports and visas.

For more information check out http://yellowairplane.com