Rafting a Balloon
By Richard Moulton - r.moulton@btinternet.com

I recently arrived in Eloy, Arizona, and was met by a boarding call for Otter 53. FIFTY THREE! Taking a look around this huge DZ we find it has three Otters, and Skyvan, a Porter, a biplane, a King Air, a 1930's Beech and a DC3. I'm in heaven.

I have just done my first-ever balloon jump, a fantastic and scary jump. There is no wind and no noise; and as I climb out onto the edge of the basket it's the most scared I've been since starting AFF a few years ago. With that one jump I am hooked, and have already booked the next morning.

I also wanted to jump an inflatable raft. I've never jumped a raft before, and it looks a lot of fun from the pictures I've seen. I'm in the bar talking with Kev Magill and he casually says "Jump the raft from the balloon". Silly idea, very silly, hmm...

After 30 minutes of driving around the local town, Casa Grande, Mals Convenience Store is the only shop open. I enter and ask if they have any rafts. Its 11:30 p.m., in the middle of the Arizona desert, and these shop staff were being asked for a raft. I don't think they knew what to think, but they smile sweetly and reach for their guns. I guess they don't have any rafts and I leave, rapido! Back at the DZ Brian Bielinsky lends some good advice on how to launch the raft, and the next day I go to Wal-Mart and buy one. I AM going to do a raft jump from the balloon!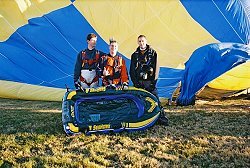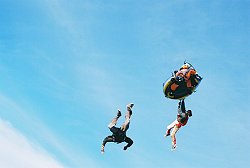 Watch the Video Clip! [4 MB avi file / DivX 4.12 Codec needed]
The next morning we entertain the first balloon lift by dirt diving the raft from the basket and stuffing my face into the grass : Jumping into the chase bus the now-inflated raft gets jammed in on top of us. Burner, the balloon pilot, radios in and says he's not happy about the conditions. We pull into a gas station, the bus opens and out pops an inflated raft, followed by seven geared up skydivers, who buy coffee. Strangely, this draws no particular attention and seems normal in Eloy! Bernard bins the 2nd lift. I am sooooooo gutted! We again book next morning's balloon lift. Brian Bielinsky has to leave tonight, and Brian Vacher, part of VMax, takes his place. Georgie Pulman, an English cameraflyer, also joins us to do the video and stills.

We wake to a glorious but icy cold morning. With the raft tied to the outside of balloon, we climb in and take off. At 6,500ft now and Burner calls time. Georgie has already hopped over the side; and with Brian, Kev and the raft perched precariously on the edge, I climb in. As I look up to take a steadying grip I wonder what on earth I am doing here. I am no pro, I have less than 400 jumps, I've only done two balloon jumps and those were in the last three days, and I've never jumped a raft. And here I am sitting in a raft in a balloon. Am I mad? YES! I check that everyone is ready and key the exit. We're gone.

It doesn't quite go to plan. I get a good grip on both sides of the raft, but the nose drops. The raft rapidly flips over, pivoting around Kev. Brian takes a slingshot and has no hope of holding on. I am nearly thrown clear but having gone to all this trouble I'm not going to bloody let go just because it doesn't want me. For a few fleeting seconds I am in a perfect sitting position in the raft, legs straight out in front of me, except that it's all completely upside down : Kev and I trade grins and with a wave he's gone.

And it's all over. But the euphoria on ground continues for quite a while, this is a world first, and an all British world first to boot.